Lynnette Kraft
is having a blog party - check it out and link up! Here are my answers -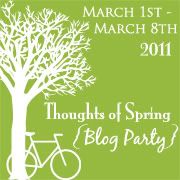 How would people describe your personality? (If they could only use ONE word.) Are they right?
Driven. Or just plain stubborn. ;) And yep, they'd be right. When I get an idea or goal into my head, I have to carry it out. As soon as I think of it. (That practice has often led to feverish sewing on Saturday nights to finish some skirt or dress.) Many times it's a weakness, but sometimes it's so helpful – because I just can't let myself fail.
What celebrity/celebrities would create a "Star-Struck" feeling if you saw them in real life?
Harrison Ford. Very long story there, but I've always enjoyed his acting – and my sister
especially
has. =)
What is your comfort food/drink?
For food, probably chips and salsa. You wouldn't believe it, but I'm actually part Hispanic. And I eat like it. =D
For drinks…coffee. My dad roasts his own – which means amazingly fresh and strong coffee.
Be brave – tell us something very random and weird about yourself.
I play with my toes and can't stop shaking my leg. Like, I move my toes around as if I'm restless, ditto for the leg. =D Very weird, yes. Well, now you know!
Do you have a strong desire to do something you've never done? What is it?
Oh, yes – and so many!! I totally want to shoot a wedding – either as a second-shooter or by myself – get a good job (working on that one!), and finally publish my book.
Movies: Action, Drama, Romantic Comedy, Documentary, Comedy? What are your favorite genres?
Romantic Classic, Action, Fantasy, Comedy, Classic, Historical Fiction…the list goes one. =) I love movies.
Books: Fiction, Non-Fiction, Romance, Biographies, True Stories, Self-Help, Devotional/Study? What are your favorite types of reading material?
Classic, Fiction, Historical Fiction, articles about editing HTML…;)
Music: Funk, Rock, Country, Jazz, Classical, Film Score, Blues, Classic Rock, Crooner, Alternative, Heavy Metal, Techno? What are your favorite types?
All of these are Christian (though I do like some of Taylor Swift's music, and some of Carrie Underwood's) – Rock, Pop, and Rap. (That'd be Toby Mac, LeCrae, Michael Tate…)
If you inherited a million dollars, what is the first thing you would do with your money?
Give half of it to my family to help them out, BUY MY CANON EOS 60D CAMERA AND AT LEAST THREE LENSES!!!!, buy a Ford truck, donate enough money for our family to get up to MN for at least a month, and put the rest in savings. =D
Name one weakness of yours (confession is good for the soul).
I both love and hate deeply. When people do or say things against me and my family, I have the deepest hatred for them. The thought and sight of them is horrible to me, knowing as I do what kind of terrible things they have done to me and the people I love. I always have such a desire to make them pay for their actions – I want them to suffer as I have…to give them a taste of their own medicine for a change. But then I have to remember that the Lord loved me when I treated Him even worse than those people have treated me – and His love, grace, and salvation is the most amazing gift anyone could receive. Because He has loved me so much as to actually die to save me – the wicked, hatful, lying, and altogether abominable person that I was – I need to love those that hate me and spitefully use me.
It really is eye-opening to think that I have treated the Lord with the same hatred as others have treated me – but my sin against him is so much worse than others' sin against me. After all, I didn't make those people!
If you could live anywhere at all (and take all your loved ones with you), where would you go?
St. Paul, MN.
Strange Talent? Can you juggle basketballs, put your legs behind your head or perform some other strange feat?
Well, I can contort my toes into weird positions…
What is one of your favorite things to catch a whiff of?
Burning leaves. It almost sounds weird, but that smell in the fall, with a sharp, cold wind blowing is just amazing. It makes me feel so
alive
.
When you leave a social gathering, do you wish: You would have talked more or You would have talked less?
Well, it depends on who's there. But I probably lean towards wishing I'd talked more. =) Sometimes I'm just quiet.
If money wasn't a factor, what stores would you shop in?
The mall. I know – sounds weird. But we never go to the mall, just because we can find better deals in other places. Not cool, but cheaper. =D
What is your greatest fear or strange phobia?
THE OCEAN
. Number one fear. I hate water (but I can swim), and the thought of deep, deep water; and possibly sunken ships; is more frightening to me than anything.
What is your greatest accomplishment?
Oh, I don't know. I'd like to say publishing a certain very successful HF novel…but that has yet to happen. =) Maybe successfully designing and sewing last year's prom dress.
What are your favorite animals?
Dogs, dogs, and dogs.
Are you a hopeless romantic?
Yes.
What movie or book character can you most relate to?
Lizzie Hexam (Our Mutual Friend), Jo March (Little Women), Elinor Dashwood (Sense and Sensibility), and Kady Bowen (MC in my novel – this girl is so much like me).
Well, that was fun! Be sure to enter the contest too. And maybe comment if you do enter? I'd love to read your answers! =D